GFI Software
Keep your business going from the inside
GFI develops right-sized, smartly engineered IT solutions for
small and medium-sized businesses. 
GFI Software delivers IT solutions to help assist businesses in running their technology systems in-house securely and with ease. The company has been delivering top quality solutions since 1992 and has been consistently increasing their range of products ever since, now offering more than a dozen different solutions that suit every requirement. Soft Solutions has distributed GFI Software for over a decade and have gained knowledge on the software. This allows us to consult on what GFI product best suits individual business' needs and also give assistance around understanding the full potential of each product. Soft Solutions work closely with GFI directly to coordinate events right here in New Zealand so you can get more from your software!
GFI HelpDesk is self-hosted, service desk software that consolidates and integrates support functionality. Manage customer questions and support more easily. See the full picture of your customer's activity at a glance. Go beyond the typical helpdesk. Customer queries are handled in an organised timely fashion. A few of the other great GFI products are below.
Archiver
With GFI Archiver, all company emails and files are automatically stored in a central, secure environment that can be accessed quickly and searched easily. Businesses gain peace of mind knowing their vital company information is stored in a safe and manageable place. Furthermore, with MailInsights reports you can identify and resolve potential business issues such as security breaches, legal risks and productivity issues by extracting key data from your archive.
LanGuard
Allowing you to scan, detect, assess and rectify security vulnerabilities in your network and connected devices. Providing a complete picture of your network and helping maintain security with minimal effort. With over 60,000 vulnerability assessments carried out across networks, including computers, smartphones, tablets, printers, routers and virtual environments. This product includes patch management, vulnerability assessment, network auditing and much more.
MailEssentials
GFI MailEssentials protects your email network against email-borne viruses and other malware threats using advanced email filtering technologies. With a spam capture rate of over 99% and minimal false positives, IT administrators can rest assured that company email is secure and spam-free. MailEssentials puts control in the hands of the administrator and user, with a central, web-based email management dashboard, and email reporting tools.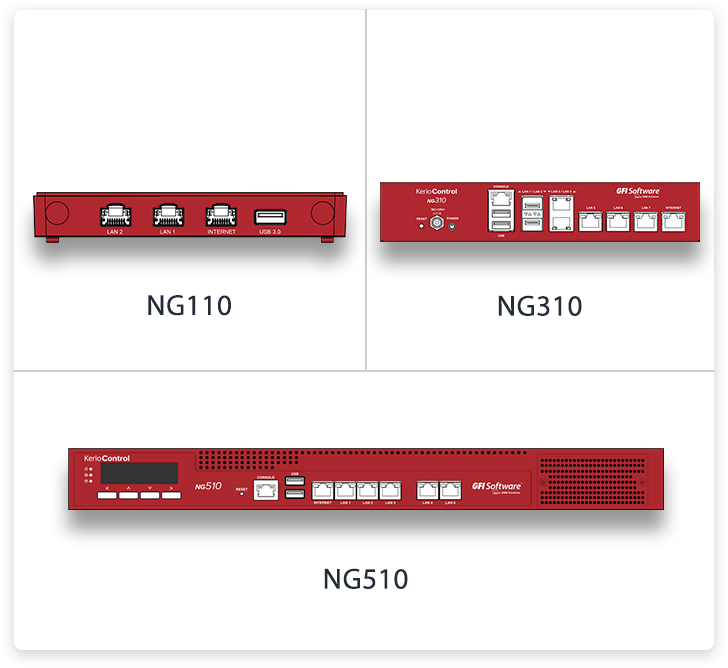 KerioControl
Protect your network from viruses, malware and malicious activity with KerioControl. This easy-to-administer security solution includes a next-generation firewall and router, intrusion detection and prevention (IPS), gateway antivirus, VPN, and web content and application filtering. These comprehensive capabilities, with unmatched deployment flexibility, make KerioControl the ideal choice for small and mid-sized businesses.
Looking for Exinda or Kerio?
Both vendors were acquired by GFI and are also available via Soft Solutions.
Discover the GFI Software difference for yourself!
We'd like to hear from you. Send us an email or better yet, give us a call!